The Labyrinth is on the path leading to the Temple.
It is a five channel, left turning labyrinth, referencing back to the works of Hildegard of Bingen, and the Labyrinth at Chartres Cathedral.
"Based on the circle, the universal symbol for unity and wholeness, the labyrinth sparks the human imagination and introduces it to a ... patterning that builds a sense of relationship: one person to another, to another, to many people, to creation of the whole.
"It enlivens the intuitive part of our nature and stirs within the human heart the longing for connectedness and the remembrance of out purpose for living.
"The labyrinth is a sacred space and can give us first hand experiences of the Divine." Artress L Walking a Sacred Path: Rediscovering the Labyrinth as a Spiritual Practice
On the other side of the path leading to the Temple is a Magdalene Trail, with images of Mary Magdalene from Russian Orthodox, Greek Orthodox and Oracle Card traditions.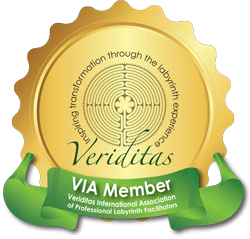 Rose is a Veriditas Trained Labyrinth Facilitatior.
Meditation for Walking the Labyrinth | Read More ...
Follow the Facebook page The New Light House for dates and times that the Labyrinth is open, and for introductory talks about walking the Labyrinth.